It's all about your dog!
Hello, we are Mark & Laurie Spain of Stateline DogWatch Hidden Fences. We are a "Locally Owned and Operated" Hidden Fence business. We would like to take a minute to give a little history as to how we became the DogWatch dealer for northwestern Illinois and southern Wisconsin.
Having moved from a privacy fenced subdivision to a rural property in 1998 we were in the market for an electronic dog fence. Unfortunately we did not do our homework to compare features that the different systems offered. We had an Invisible Fence brand system installed. It did contain our dog but when the batteries ran out so did he. After having to Chase Eli down a busy county black top THREE times in ONE year we traded in our Invisible Fence for a DogWatch Hidden Fence System. The long battery life (2 years) and nominal cost ($12.50 per 2 years) is what first attracted us to Dog Watch. It was then that we realized the long list of benefits DogWatch offers to keep our pets safe. This ranges from the Safelink® Digital FM signal, audible warning that is distance-not timing based, individual settings for multiple pets and our favorite "Tattle Tale" feature. . That is why we get so excited talking about what DogWatch has to offer. We don't want people to make the same mistake we first made.
In 2003 we called for service and found DogWatch was seeking a new representative for the area. With Laurie's experience as Certified Veterinary Technician and Marks background in mechanical engineering we were a good fit to join the DogWatch Family of Dealers. For 3 years Laurie & Mark balance her life between building Stateline Dogwatch Inc. and their full time jobs. Our 3 sons also contribute to the business on a regular basis with installs and service. Our second year in business we were honored with the award of " 2005 Rookie Of The Year" at the 2006 annual DogWatch Dealer Meeting. In 2009 we were honored with "Dealer of the Year" Worldwide.
As a C.V.T. Laurie has a developed a deep understanding of canine behavior and the training process. Laurie has attended the week long DOGS COURSE , Principles and Techniques of Behavior Modification at Purdue University This benefits our clients dogs with a very low stress training protocol that implements true operant conditioning principles. Laurie also attended an intense 10 day training course at That's My Dog in Dubuque Iowa. This additional training allows us to offer additional services of remote collar training to our clients. This can be for basic obedience training to off leash reliability.
The spring of 2007 was an exciting one as Laurie has retired after 25 years at the animal clinic to service the needs of our clients on a fulltime basis. December of 2011 was another exciting milestone as Mark retired from a 35 year career in Mechanical Engineering to help Laurie meet the growing needs of our customers.
The importance of starting with quality equipment cannot be overstated, but service after the sale is equally important. We will strive to serve you as we would wish to be served.
If you have any questions please don't hesitate to call us at 815-335-1114 or 608-721-6100 or you can e-mail us under the contact us icon. We look forward to UNLEASHING YOUR DOG!
Service Area
We provide services to customers in the Northern Illinois & Southern Wisconsin area:,     Northern Illinois
Freeport, Rockford, Belvidere, Rockton, Roscoe, Byron, Dixon, Oregon, Rochelle, Amboy, Sterling, Rock Falls, Mendota, La Salle, Peru, Leaf River, Polo, Mt Carroll, Lanark, Shannon, Lanark, Forreston, Galena, Stockton, Winnebago, Pecatonica in the counties of Bureau, Boone, Carroll, Jo Daviess, LaSalle, Lee, Ogle, Putnam, Stephenson, Whiteside (NE), Winnebago, Illinois (IL).

Southern Wisconsin
Madison, Middleton, Fitchburg, McFarland, DeForest, Sun Prairie, Waunakee, Verona, Oregon, Stoughton, Janesville, Brodhead, Monroe, Beloit, Evansville, Orfordville, Cottage Grove, Edgerton, Milton, Fort Atkinson, Cambridge, Dearfield, New Glarus, Mt Horeb in the counties of Columbia, Dane, Green, Grant, Iowa, Jefferson, Lafayette, Richland, Rock, Sauk, Wisconsin (WI), Northern Illinois & Southern Wisconsin and the surrounding area.
Get a Free In-Yard Estimate!
Our representatives will meet you at your home for a free in-yard estimate. We will help assess your needs and customize a solution that suits both you and your pet. Call today or schedule an appointment to get things started!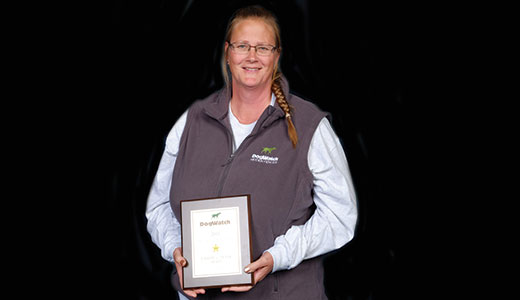 Why Choose Stateline DogWatch?
1. Our number one concern is the safety and well-being of your pet. We provide the support you need to ensure successful training and happy containment.
2. We provide a proven PetFriendly™ training program. We train your dog (or cat) to recognize the boundary flags and the audible warning signal (or vibration) before introducing the correction.
3. We are experienced professionals committed to providing excellent customer service and support. We strive to service every customer promptly and courteously.
We want to hear about your experience! Write us a review on Google+
Simply the best. No getting around it.™
Another reason to choose Stateline DogWatch is that we are an authorized DogWatch dealership. The DogWatch Hidden Fence is the most technologically advanced and the easiest to use, and it is backed up by a no-hassle Lifetime Warranty from a company with more than 25 years of keeping pets happy and safe.

What makes us Simply The Best?
---
Customer Testimonial
The results have been phenomenal with our three labs. They have learned the boundaries and they do not cross them. The peace of mind and the reduction of stress - on both humans and dogs - has made all the difference in the world.
John N.