What People Are Saying About Stateline DogWatch
Marie Ribovich
I'd be happy to recommend your services and the DogWatch Hidden Fence System to anyone. With the quality product, training, expertise, and long term warranty provided, I can't think of a single reason not to use Mark, Laurie and the DogWatch Hidden Fence System.
We want to hear from you! Write us a review on Google+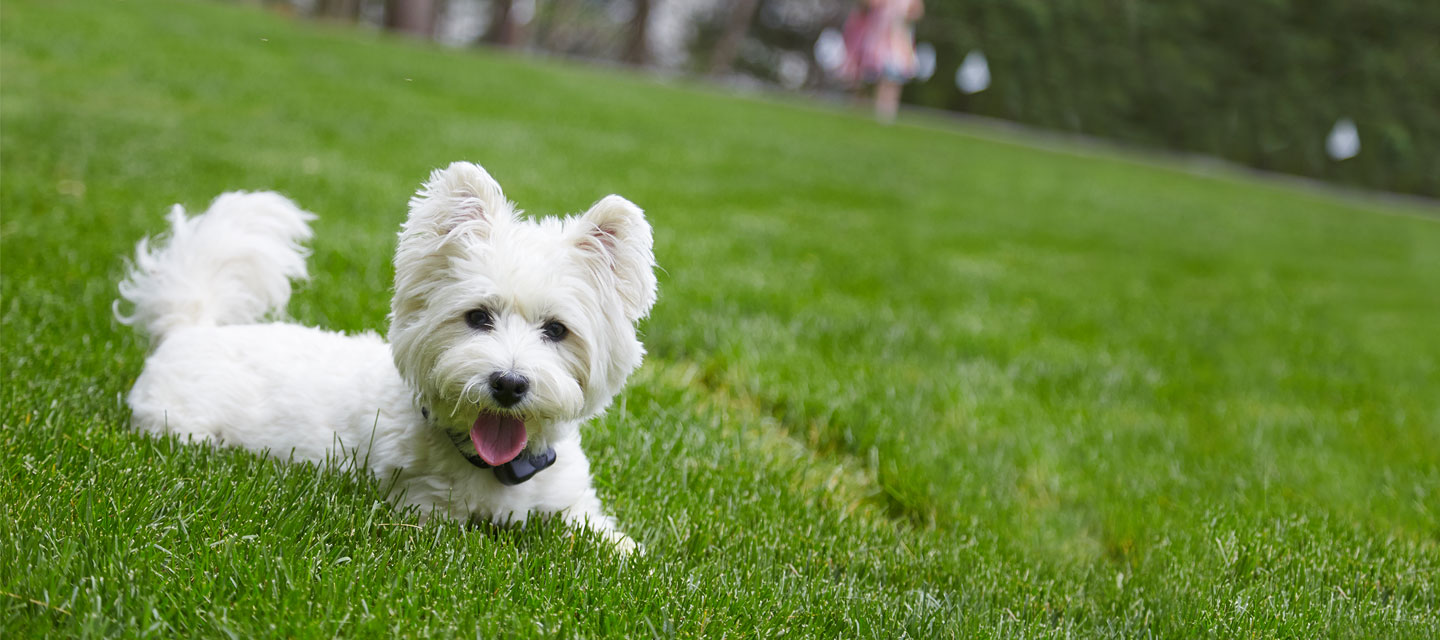 George, Rockford, IL
I just wanted to let you know that we have been very happy with the system and the service that we have received from Stateline Dog Watch. I am so glad that we did not listen to all of the people that told us that an Alaskan Malamute and an invisible fence is a bad combination….he will never stay in the yard is what we always heard. We are so glad that we listened to you, and followed the training you provided. Balto is now full grown at 120 lbs with two acres to run in and we have never had an issue. We have seen him several times stop on a dime while chasing rabbits, squirrels, and other things that come in to the yard from time to time. Once again, thank you very much, my wife and I made an excellent choice.
Cathy and Greg, Madison, WI
I saw a note the other day regarding the collars that you sent to Greg and I. I just want to tell you how much we appreciated the service you provided for us on our Stateline Dogwatch guarantee. We have had different dogs for over 20 years and always used the collars which allow the dogs to roam free in our yard. Over the years both broke and we never knew that we could have them replaced for free. When we recently had our younger dog continually leaving the yard we looked back to the dog watch collar. Interesting we forgot that they were guaranteed for life! Wow, quick service getting in touch with you, sending what we had left of our original collars and your quick response to reproduce brand new hardware was great. Our dogs are now safely back in our yard, our neighbors appreciate it and we feel they are in a safer environment. Hope all is well.
Thanks again for the great product and service.


Suzanne, Sauk City, WI
Our in ground pet fence has changed our lives, for the (much) better! As you may recall, we live in the country and have three dogs. My husband and I both go to work very early, and were frequently trying to get out of the house and round up dogs at the same time. Apparently chasing rabbits, squirrels, and even deer are irresistible urges for our gang. It made for very hectic mornings. Alternatively, trying to walk three dogs at one time is a little like herding cats!  Initially I was a little worried about the dogs adjusting to the fence- we have 2 small rescued dogs and one large. The small dogs are pretty timid and easily spooked. We followed your training protocol, and had little to no trouble in getting everyone "with the program." Since we have had our Dogwatch fence in place our dogs, as well as my husband and I, have enjoyed a lot more free time. The dogs get to spend more time outside, and we are spared the worry and hassle of trying to keep them nearby and safe. We have just listed our house for sale, but I know that wherever we end up, we will not be without a Dogwatch fence again.
If any of your potential clients ever want to talk to an owner, I would be happy to share our experience.

Ellyn & Joe Williams, Mount Horeb, WI
Izzy, our Beagle/Corgi mix puppy, loves to be outside so we decided to look into 'invisible' fences.  The Invisible Fence® brand is very prevalent in our area, so we checked out their website. We also checked into DogWatch® Hidden Fences as we had not heard of that brand before.   After doing our homework & talking to Laurie and the Invisible Fence® representative, we chose DogWatch.   We liked the fact that DogWatch is made in the USA, uses standard, less expensive batteries with a long battery life.  The DogWatch signal is FM and we (not a Dealer) can program the transmitter & receiver to meet Izzy's requirements.   It's also good that the receiver has a status light that lets us see Izzy's correction level and the condition of the battery.   We love that the light 'tattles' on her if she goes where she shouldn't!   We really appreciate the audible beep that she hears if she enters the 'avoidance zone' because Izzy responds to that and almost always retreats to a safe area.   If she doesn't, DogWatch uses a distance based correction response after the beep.  Mark & Laurie did a good job on our installation.  Laurie's training of Izzy absolutely set the stage for Izzy's success.  She gave us many good tips and has always been great at answering questions or giving follow up advise.   If you listen to Laurie during your pet's training and follow the written instructions she provides when she leaves, you and your pet will be happy and successful with your DogWatch® Hidden Fence!   We certainly are! It's a treat to let Izzy outside and know she's enjoying her yard!
Chris and Gary Peppers, Rockford, Illinois
We purchased a DIY underground fence for our Yorkshire Terrier last year.  The warning tone was very weak and she made no indication that she was hearing it.  The shock was traumatic to our dog and she she ran in and laid on the bed for about  a half hour, panting frantically. It was horrible. We would not put her through that.  We dug it all up and took it back to the store.  At this point, thats what we thought all dog containment systems were like so we dismissed the idea of ever having one. One day, I talked to an aquaintance who said that the fence he had was great. No surprise shocks, no trauma to the dog. It turned out to be DogWatch. Sceptically we had it installed.  Laurie took our Yorkie to all the boundries, showing her what the beep meant, and what to do.  The shock of the DogWatch fence is very fair, and starts out very gentle. Later, you gradually up the shock to a slightly higher level.   Our Yorkie 'got it' almost immediately, running in toward the yard with no problem when she  heard the warning beep. In about a week, she would cautiously go up to the boundry, and when she heard the beep she ran back into the yard.  She will not go out of the area, even with major distractions. She can now run, and play, and explore, off leash, and we couldnt be happier.
We highly recommend Laurie, and the Dogwatch fence she installed.  It is safe, and fair to the dog.  Without it, our dog could not run and play like she does now. Don't waste your money on DIY systems. They are inconsistant and harsh. DogWatch is worth every penny.
Andy Thompson, Middleton, WI
I would like to thank Laurie for going out of her way and well beyond the call of duty to troubleshoot and fix our Dog Watch system.  Laurie put in special effort to contact us, then offered to come out and help us at 7pm the night before Thanksgiving!  We had installed the system in 2005 for Nellie (see attached pic) and it has worked without fail until this spring when the line was broke due to a landscape project, followed by a lightning hit.  She knows the system inside and out and quickly found cable issues, fixed them and replaced the transmitter. All this work took just less than an hour, the cost was amazingly low, and she was a wealth of information about the system and best practices for installation and maintenance of the system.  Thank you so much for your unselfishness and great service.  You did exceed my expectations!
Truly Thankful on Centerville Road, Rockford, Il
In April of 2005 my Husband and I decided that those do it yourself dog fences were not going to work for us.  We had purchased and installed 3 of them over a 4 year period.  They only worked a part of that 4 years. It is now Feb. of 2011 almost 6 years later and our Stateline Dog fence is still working perfectly.  We are so thankful that we had the fence put in. I have to tell you this was the best investment we have every made.  We love our pet and this keeps them safe and out of my garden. Laurie lastly I want to say even after six years you are there to help us when we need a collar, battery or help training a new puppy.
Jeannie Harrison DVM, 
Rockford, IL
I have a rowdy bunch of young terriers, and I was having a big problem last spring. Although I have a privacy fence, some of the dogs were fence-running and fence-fighting with my neighbor's large dog, and getting incredibly muddy and ruining my yard in the process. Laurie installed the hidden fence several feet from the fence-line, and I haven't had a problem since--my grass grew back, and I no longer have to worry about any of the dogs getting hurt. Laurie was very patient with my dogs, and addressed each of them individually, from gentle Kipp to high-spirited Victor. She is very helpful in regards to training, and questions are answered promptly via email or phone.....I couldn't be happier with the service.
Thanks for your help!

Carol and Diane, Mount Horeb, WI
Last year we adopted Abigail, a Brittany, who was such an escape artist that she was deemed un-adoptable by one of the national Brittany rescue agencies. We had Laurie install the hidden fence around a 5 acre fenced area at our home just outside Madison WI to satisfy the rescue agency that we could contain her. The only time Abby has escaped is when we let her out without her collar (after about 9 months on the collar) to see how she would do. She was over the 4ft fence in less than an hour. We learned that the hidden fence was an absolute necessity!

Shortly after this realization, we had our hidden fence go into alarm, a breach had occurred in the buried wire. Worse, it was the day before my wife and I were flying out to RI to visit friends. We could not find the breach and couldn't leave Abby with our house sitter unless the fence was operational. Laurie rearranged her schedule and came up to Madison from Belvidere, Il the same day, found and fixed the breach and we were able to fly to RI the next day. Needless to say, if Laurie had not been willing to provide such great support we would have had to cancel our trip.

More recently, the escape artist came to our door WITHOUT her collar. She shed it some where in our 5 acre wooded enclosure. Laurie to the rescue once again. Laurie provided me with a replacement collar and a remote tracking device so that I could try to find the lost collar. I was able to find Abby's collar down in an animal hole in a large brush pile. Once found, I returned both the replacement collar and tracking device and all is well.

The folks at Stateline Dogwatch are the most committed people I have ever dealt with. There is no hesitation on their part to service and support their customers no matter where they are. If they install a fence for you then you can count on them to be there when you need them, no matter how far you live. Their customers are very important to them and we are grateful for this. 

Thank you Mark and Laurie.

Kelley
Just a note to tell you how pleased we are with the Dog Watch system. Our Bouvier (Kane) has been a relative fast learner and is loving his large yard. The best test for Kane has been our kitten who is just as fast a learner as Kane. It only took her a couple of days to figure out where she was safe and has taken the opportunity to torment Kane. Last week as I worked in the yard the kitten came racing past me with Kane in hot pursuit (he loves her but loves the chase). As they rounded the corner of the house I thought to myself there she goes as the fence stops relatively close to the corner. The kitten raced over the fence with Kane in a full gallop behind her. The kitten stopped about 15 feet on the other side and as Kane rounded the corner he came to screeching stop on his side of the fence. After stopping dead in his tracks he laid down on his side the fence and watched the kitten roll around in the grass on her side. This system is awesome. I highly recommend it.
Mike Salem, Rockton, Illinois
Laurie and Stateline Dogwatch did a fantastic job setting up a system for our Black Labrador Retriever, Obi-wan. We had just moved to a fairly spacious half acre here in the Midwest from the West coast where the yards tend to be very small and almost always fenced and were skeptical how a high energy, critter chasing, ball fetching, 1 ½ year old that was used to a 6 foot fence was going to do with this "new" system. It worked perfectly! We followed the 2 week training plan that Laurie provided but quickly figured out that he was trained by the 3rd day . . . simply amazing. The parade of furry visitors we have through the yard (squirrels, opossum, raccoon and an occasional fox) had us worried but he never left the yard and (most) of the critters survived to tell the story.

Laurie's "magic carpet" trick on exiting the yard for normal neighbor hood walks was easy to learn (one of the concerns we had ; how to get the dog to leave the yard when you really want him to) The installation was performed very professionally; lightening protected, no exposed wires and no unsealed holes between the controller and the yard. The hardware is holding up very well rain or shine. Thanks again Stateline for a job well done!
Patty in Freeport, IL
Hi, I just am so happy that Laurie Spain has helped me with my fence. I originally had Dog Watch equip and was very happy with the product. The person who I was dealing with switched to Pet Stop. My collar from Pet Stop has been nothing but trouble. It frequently alarms falsely in the house causing my dog to be afraid in areas that she shouldn't. I am so happy that all my equip will now be from Dog Watch. I am also thrilled with how quick and helpful Laurie is. I appreciate all of her help keeping my dogs safe.
Lora and John McClelland with BizziBella and Britta
We have had our DogWatch system now for 6 weeks, and are very pleased. We have 2 dogs with very different personalities (and sizes) - a yellow lab, and a miniature dachshund. They have both been enclosed in an unsightly chain-linked fence that really deterred our children from playing in the back yard, and restricted the dogs from ever being out front with us. I was seriously skeptical that in 2 weeks time we would be ready to trust them without the security of a visible fence. People approaching the yard, kids playing nearby, and even squirrels and rabbits can't tempt them to cross. I am amazed!

Our little dog still tests her boundaries frequently, but retreats instantly when she hears the warning tone and never needs the correction! Our lab, more mellow by nature, knows the boundaries and rarely ever tests it. With the separate zones for the front and back, they can be out front with us when we are, and the back yard is so much more accessible to the kids! (And we never have to worry if the gates are shut!). They quickly learned that going through the garage between zones was safe. The system is very easy to use, and the training was very straightforward...and successful! Thanks for giving us our yard back, and for the peace of mind.... And the dogs thank you for the freedom!

Marie Ribovich
Your hidden fence systems are wonderful! Thank you so much for providing such comprehensive and honest answers, fast installation and professional training for me and my dogs. I have two friendly Basset Hounds with very opposite personalities. One is energetic, persistent and always "following his nose" and the other is a couch potato who is very much on the sensitive side. That being said, I was worried about finding a hidden fence system that was strong and reliable enough to keep the persistent Basset at home, yet gentle enough to allow the sensitive Basset freedom in roaming the yard without the harsh consequences of heavy correction. That is, until I talked to you!

I'd be happy to recommend your services and the DogWatch Hidden Fence System to anyone. With the quality product, training, expertise, and long term warranty provided, I can't think of a single reason not to use Mark, Laurie and the DogWatch Hidden Fence System.

Michael and Deni Upshaw
I am very pleased to report that in the ten months since you installed our DogWatch Hidden Fence System, we have experienced no escapes from our premises by Buffy, our Siberian Husky.

I must admit, I was skeptical when my wife first suggested that we employ your solution. I had heard of other owner experiences with this particular breed and the word was that it was a risky attempt. The breed has developed a reputation for persistence and using their innate intelligence to contrive various schemes for defeating any attempt at containing them.

I fully expected that she would willingly endure any short-term physical discomfort in order to escape, and I was prepared to refuse any bid that was submitted without some assurance that an electronic fence would work for her. Your combined knowledge of dog psychology and technical knowledge of how your system worked was what sold us on selecting your company for our installation.

Neither have we been disappointed in your promise of post-installation support. The few occasions that we have needed advice or on-site service, you have been prompt and helpful in your response and in your follow-up advice on failure detection, repair and prevention. With such technical support and expertise, it is easy to envision permanent, ongoing success with our system in the years to come.

Most importantly, you have helped us supply Buffy with maximum freedom within a safe, controlled environment. This ensures that she will remain a happy resident in our family and enjoy much-improved prospects for a normal life-expectancy.

We remain your satisfied customers with best wishes for continued success in your endeavor.

Tell Us Your DogWatch Story!
We'd love to hear from you, too! Please consider filling out our customer feedback survey to tell us about your experience with DogWatch.